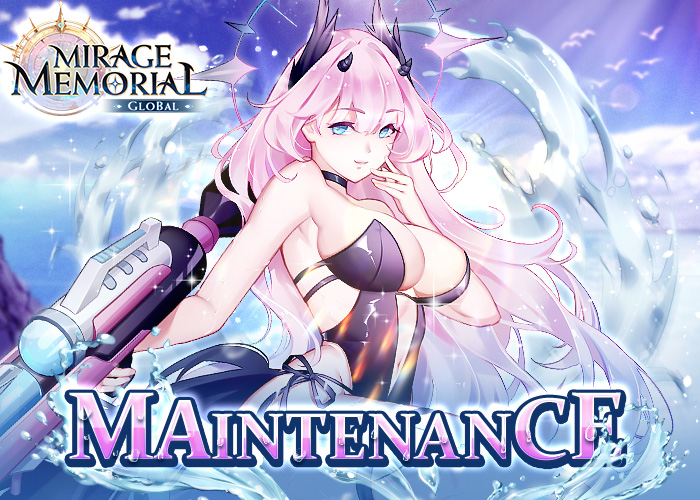 Dear masters,
In order to provide a better gameplay environment, Mirage Memorial Global will be under maintenance on Nov. 27th. You can't login the game during the maintenance.
The following are the maintenance time of each region:
America Server: 1:00-3:00 (UTC-5), Nov. 27th
Europe Server: 6:00-8:00 (UTC-0), Nov. 27th
Asia Server: 14:00-16:00 (UTC+8), Nov. 27th
1. Top-up double bonus reset. Any X2 chance on any USD price will be reset during a limited period of time;
2. A 5-day Lucky Wheel event with different EV Servant reward everyday;
3. Advanced Summon Scroll will drop in Adventure and Challange.
4. Drop Rate of Astral Key will be doubled during 27th-31st, November;
5. New Voting Event. Vote the Servant for her new costume!
6. New Servant: EV Swimsuit Montezuma, EV Swimsuit Hammurabi;
7. Desert Shrine 51-60 Floor. Make sure not to complete Desert Shrine before maintenance;
8. Act 27-28 in Adventure;
9. New game mode: World War. Epic battle awaits!
10. Hero's Coin exchange is added. Hero's Coin can be used to exchange for certain SS Servants.
The end time may be a little early or late. We will inform everyone on our Facebook once it has been finished. Please kindly wait and pay close attention to our notice on Facebook.
Sorry for any inconvenience. We will send rewards to all servers after the maintenance.
=•=•=•=•=•=•=•=•=•=•=•=•=•=•=•=•=•=